Focus
---
RIKEN in the Community
#02
Science Café Collaboration with
the Yokohama City Central Library
Voice of

Yuki Tokuyasu, information and reference material librarian
Yokohama City Central Library
From Science Café to Library Café
As of March 2014, we have invited 23 experts from various fields to talk about their specialties for Yokohama Library Café. It initially started out as a collaborative event between RIKEN and Yokohama City Central Library back in August 2010 called Science Café. RIKEN researcher Dr. Shinjiro Yamaguchi was invited as the guest speaker to talk about "Resilient survival strategies of plants – Secrets of how plant hormones work."
The relaxed atmosphere of the Science Café allowed for casual exchange of opinions and a Q&A session while sipping a cup of tea or coffee. As the event was well received by both participants and the guest speakers, we have been expanding discussion topics since FY 2012 to other fields such as the social sciences and the humanities. The name was changed to Library Café to reflect the wide range of themes being covered.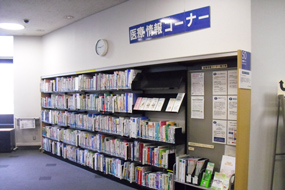 The Medical Information Section at the Yokohama City Central Library
How the local library spreads information
in the community and works with RIKEN
Public libraries in recent years have been making efforts to highlight their civic functions, providing information and support for solving issues in the local community and for businesses. Science Café started out as a way for the library to more broadly inform our users about our various services.
For the general public, it's certainly a rare occasion to listen to and ask researchers questions directly and openly about the latest findings. We have had difficulties in the past keeping up with what's new—especially in the field of natural science, where constant research updates are overwhelming because of rapid advancements. This has all changed through our collaboration with RIKEN, however, since the opportunity enabled us to focus on life science topics, which is exactly where we knew public interest would be very strong.
With the help of the guest speaker, we create a list of reference books for every topic being presented, and display reference materials onsite so participants can maximize their use of the library afterwards.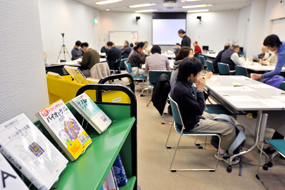 A reference display set up at the Café.
Get in touch with the newest science at your local library
Participants select from and learn about the latest science news from the wide range of Library Café topics in the familiar environment of their local library. In fact, the Q&A sessions during RIKEN Science Cafés become so vigorous that discussions extend well over the allocated time. Every time I witness such excitement, the importance of opportunities for communication strikes me, as it is clearly evident that many people would love to be in touch with the latest scientific findings.
Therefore, I hope to continue working with RIKEN on new ideas for further collaborative events, utilizing our experience so far to plan occasions where people can actively participate.
Yokohama Library Café at Yokohama City Central Library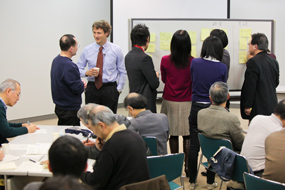 Participants exchange opinions
with the researcher during a short break.