About Us
RIKEN is a multidisciplinary research organization engaged in a broad variety of research fields across the natural sciences. RIKEN Yokohama Campus was founded in 2000 as the hub for RIKEN's life science research activities, from which we convey the possibilities in our research findings to the public and contribute to the community through strong local alliances.
Research Centers

A hub of three life science research centers

More >

Outreach

Conveying the possibilities in our research

More >

Local Alliances

Engaging the community through education and events

More >

---
Facilities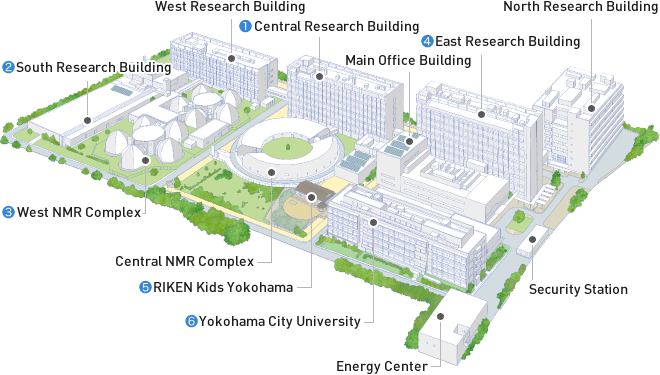 Experimental Greenhouses
(Central and East Research Buildings)

Arabidopsis and other plants for experimental use are cultivated in these state-of-the-art greenhouses.

Next-generation Sequencer
(South Research Building)

Researchers here are developing high-accuracy genome-wide analysis methods using high-speed, low-cost sequencers that can read large volumes of DNA.

NMR Machines(West NMR Complex)

Our various NMR (nuclear magnetic resonance) devices are used to collect data on the distance between atoms in a protein sample, the data used to determine the three-dimensional structure of the protein through computer calculations.

SNP Typing Facility
(East Research Building)

Through the systematic analysis of single-base variations in DNA, our researchers are discovering genes associated with lifestyle-related and other diseases.
RIKEN Kids Yokohama

Our daycare center is part of RIKEN's efforts to promote gender equality, provide onsite childcare support to staff and help RIKEN secure the best researchers domestically and internationally.

Yokohama City University
(Graduate School of Medical Life Science)

RIKEN Yokohama researchers provide guidance to the university's graduate students as part of our efforts to foster new research talent.
---
Organization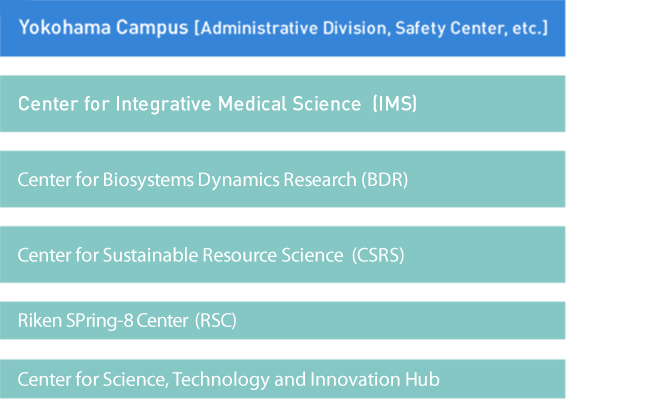 ---
History
Year

Events

1998

The Genomic Sciences Center opens

2000

RIKEN Yokohama Institute opens
The Plant Science Center and SNP Research Center open

2001

The Research Center for Allergy and Immunology opens

2003

RIKEN becomes an Independent Administrative Institute (previously a public corporation)

2005

The Center for Research Network for Infectious Diseases opens

2008

Genomic Sciences Center reorganized into the Omics Science Center, the Systems and
Structural Biology Center, and the Bioinformatics and Systems Engineering Division
SNP Research Center renamed as the Center for Genomic Medicine

2010

The Japanese name of the Center of Research Network for Infectious Diseases changes
Yokohama Institute holds various events to celebrate its 10th anniversary

2013

Yokohama Institute becomes RIKEN Yokohama Branch
Center for Integrative Medical Sciences, Center for Sustainable Resource Science
and Center for Life Science Technologies open, taking over from their previous centers

2015

RIKEN becomes a National Research and Development Institute

2018

The Center for Biosystems Dynamics Research opens, to succeed the Quantitative Biology Center, Center for Developmental Biology, and Center for Life Science Technologies
---