Access
---
Local Access
By Bus

Take the #08 bus from Platform 8 at the East Exit of Tsurumi Station (also accessible from the West Exit of Keikyu Tsurumi Station) and get off at the RIKEN Shidai Daigakuin Mae bus stop. The institute is across the street. All buses from this platform are bound for Fureyu.

Buses depart Tsurumi every 5–15 minutes. It takes about 15 minutes to arrive at RIKEN Yokohama. The fare is 220 yen in cash.
By Train

A 15-minute walk from JR Tsurumi-Ono Station (JR Tsurumi Line), which is directly accessible by transfer from JR Tsurumi Station.

Trains run about every 10 minutes during morning and evening rush hour, but less frequently at other times.

Searchable train timetables in English are available at http://www.hyperdia.com/en/
By Taxi

Use the taxi stand at the East Exit of JR Tsurumi Station or the West Exit of Keikyu Tsurumi Station. The trip takes about 10 minutes and costs around 1,200 yen.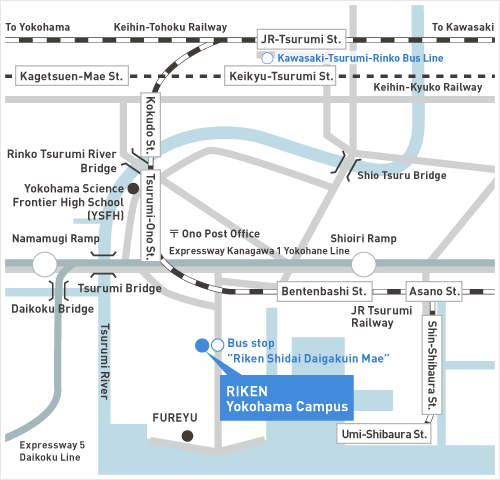 ---
From the Airport
From Haneda Airport

Route 1

Take the Keikyu Railways Airport Express* (blue kanji sign) for Yokohama and get off at Keikyu Tsurumi Station (27–29 minutes). Airport Express trains run every 10-15 minutes between 9:30 a.m. and 9:30 p.m. Next, follow the Local Access directions above to get to RIKEN Yokohama.

Route 2

Take any train marked with a green (express), red or dark grey kanji sign to Keikyu Kamata Station. Transfer to the Keikyu Main Line and take a local train* toward Yokohama until Keikyu Tsurumi Station* (12 minutes).

*Only Airport Express (blue kanji sign) and local trains (dark grey kanji sign) stop at Keikyu Tsurumi Station. Note that Keikyu Tsurumi Station and JR Tsurumi Station are two different railway stations and are separated by a bus rotary (the stations are about 150 meters apart).

From Narita Airport

From Narita Airport Station take the JR Sobu Line (Rapid Express), Airport Limousine Bus or JR Narita Express* to JR Shinagawa Station. (JR Sobu Line is the most inexpensive option and takes about 1 hour and 15 minutes). From JR Shinagawa Station take the JR Keihin Tohoku Line (Yokohama direction) to JR Tsurumi Station (18 minutes). Next, follow the Local Access directions above to get to RIKEN Yokohama.

* A reserved seat express that requires payment of a surcharge in addition to train fare.

Searchable train timetables in English are available at http://www.hyperdia.com/en/