iSYM People 2...
Plant x Microbe = 21st century's Green Revolution
Dr. Yasunori Ichihashi
Plant-Microbe Symbiosis Research and Development Team, RIKEN BioResource Research Center

━━━Please describe your role at RIKEN.
Since April 2018, I became a leader of Plant-Microbe Symbiosis Research and Development Team. I would like to contribute to a construction of indigenous bioresources of Japan as well as development of plant-microbe symbiosis research through participation in iSYM.
━━━Please briefly describe your current research.
Here are three main missions in my new lab.

1. Construction of bioresources of microbes and plants for symbiosis studies




Since most agricultural crops grow in soil, which is one of the richest microbial ecosystems on Earth, plants and microbes are strongly associated with each other, and symbiotic microbes such as mycorrhizal fungi support plant growth. My team plans to collect beneficial rhizosphere microbes from wild or agricultural fields in Japan. In addition, we assemble current knowledge in plant-microbe symbiosis research field and construct novel bioresources of experimental plants related to the symbiosis studies. There are already resource centers of microbes and plants alone across the world, but ours will be a combination of them. Our team will provide unique bioresources of microbes and plants, facilitating the symbiosis research field.

2. Establishment of an experimental platform for plant-microbe symbiosis research




My team will build a global standard experimental platform for the plant-microbe symbiosis studies in order to test a hypothesis as a basic approach of experimental science. It will allow us to evaluate the effect of symbiosis and dissect the detailed communication between plants and microbes at the molecular level.

3. Assembly of agricultural information using large-scale omics analyses: Field Agri-omics


We proposed Field Agri-omics as a new analytical method for understating agriculture. Since we apply the omics analysis

[comprehensive investigation of internal information within a biological sample]

to the agricultural field, we call the method as "Field Agri-omics". Analyzing data from the agricultural field allows us to reveal what's actually happening there. Our current study showed that Field Agri-omics can identify new findings such as the mechanism of how soil solarization promotes the crop yield. Therefore, I believe that applying Field Agri-omics throughout Japan and assembling more data will eventually contribute to improvement of agriculture in Japan.
━━━What excites you the most about your current research?
As a scientist, it's thrilling when I discover something new which was unknown before. Moreover, collaborative research is very exciting. Through the experiences of collaboration, I realized that building connections is essential for successful collaboration but also how difficult it can be to establish relationships. When we decided to perform Field Agri-omics approach, for example, we needed to work with many experts from various research backgrounds as well as farmers. Since both researchers and farmers have a certain pride in their work, we often disagreed over the experimental procedures such as designing field plot, the schedule and detailed methods of agricultural procedure, etc. These experiences made me learn that it's important to have an open mind and show an eagerness to learn when we work with others. To accomplish this, I try to keep

Shoshin

(Zen phrase, Begginer's mind) all the time.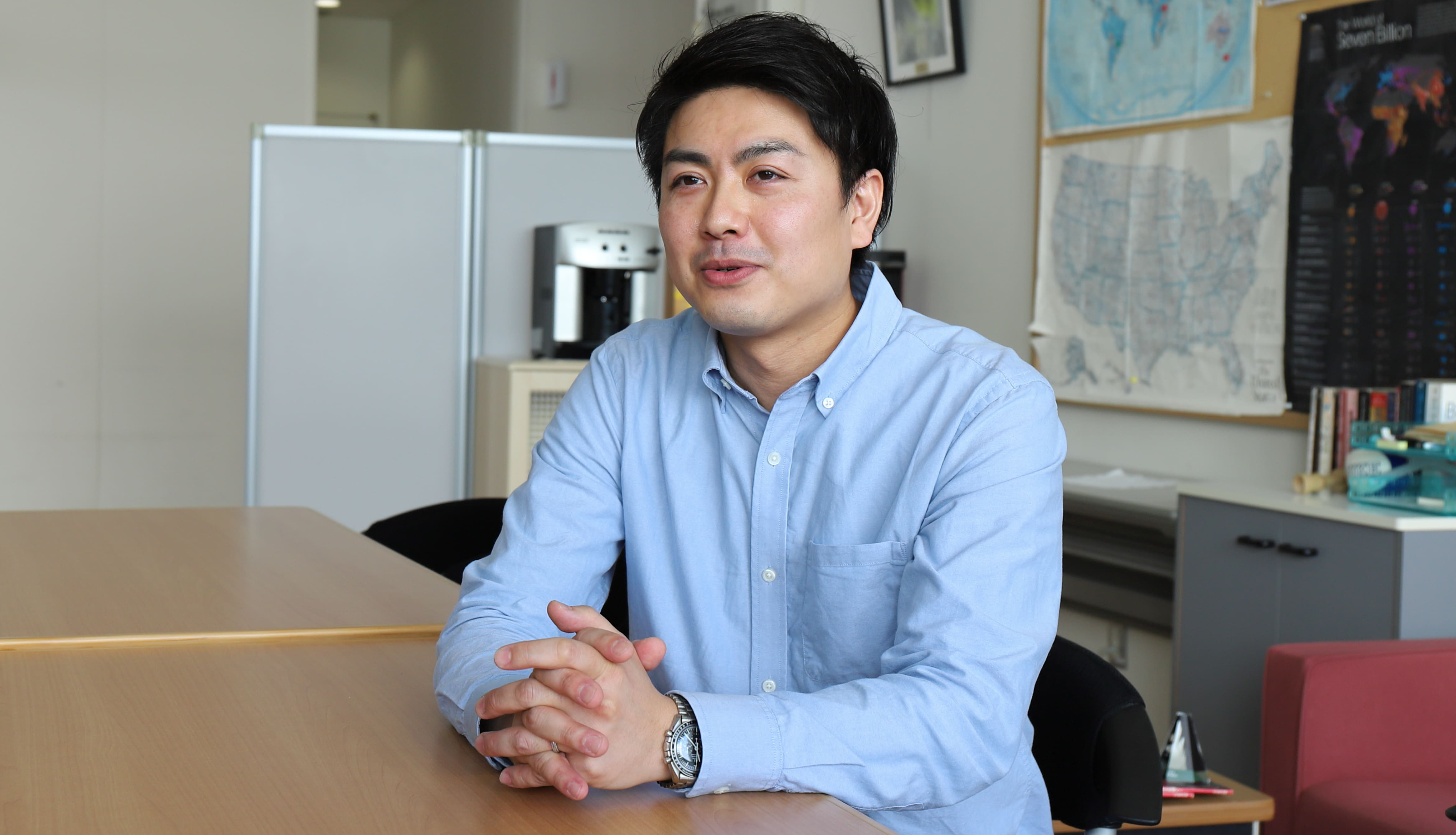 At RIKEN Yokohama campus
━━━

Why did you decide to become a scientist?
I have a great interest in international cooperation and contribution to society. Actually, I organized a club to discuss about social issues with other students and teachers when I was an undergraduate student. I wanted to join JICA [

Japan International Cooperation Agency, a government agency that provides developmental assistance to developing countries for the Japanese government]

but I just realized that I couldn't help many people with my own skills at that time. Rather, scientific discoveries have a potential to contribute to helping humankind globally. At that time science was my strength, so becoming a scientist was the only way for me to accomplish my mission in life.
━━━Why do you think Symbiosis reseach is important?
Originally, I studied parasitic plants to contribute to solve food crisis in Africa, but there were already many researchers in that field so I wanted to open up a new research field by myself. Then I came up with an idea called "superorganism" that captures plant and microbiomes as one living organism. As the term symbiosis indicates, plants do not live alone like they do in the lab. Plants and microorganisms live together in the agricultural field and I believe that it's important to understand the whole system.

In addition, symbiosis exists everywhere, not only in plant-microbe interactions. A life never survives alone. Each individual interacts with each other. Science had been proceeding with reductionism and breaking things into a very small unit but science hasn't focused on the so-called symbiotic relationship enough. The relationship doesn't exist as a tangible object, which makes it challenging to study. But I believe that the most cutting-edge scientific technologies can break through such phenomena. We understand each individual phenomenon enough, so I think it's a time to start dissecting the complicated relationship between individuals. When our understanding advances, I believe that we will be able to understand at system and network levels. For example, agriculture is very complicated so it's impossible to understand fully by only understanding individual components like crops and weather. I believe that research of symbiosis will deepen our knowledge of agriculture systems. This is also being applied to understand, for example, the relationship between humans and their gut-living organisms.
━━━Lastly, please tell us about your goal.
"Plant x Microbe = 21st century's Green Revolution"

I would like to research on the symbiotic relationship between plants and microbes and propose new agricultural methods that are friendly for the earth. The prior green revolution in the last century saw improved productivity of crops and development of new crop varieties. However, people depended too much on chemical fertilizer and this has damaged the land, for example, by soil contamination. Therefore, our generations must think about natural nutrient cycles as a next-generation agriculture. I believe that revealing the connection between plants and microbes will lead us to a 21st century Green Revolution.

Especially, I focus on Mycorrhizal fungi which form symbiotic relationships with 70 to 80% of plants and most of them are thought to be a growth promotor. Even though there are many researchers who study Mycorrhizal fungi, we stilldon't know the detailed functions of them in agricultural field. I believe that maximizing the effects of plant-microbe symbiology including Mycorrhizal fungi to the agriculture will contribute to the 21st green revolution.

━━━Thank you very much for your time, Dr. Yasunori Ichihashi! New leader sets sail on his voyage!

Thank you for reading the article.
We will keep posting iSYM People Interviews. So please keep updated!
iSYM Official SNS (Facebook / Twitter)

,iSYM_RIKEN,sample04,{"version":2,"widgetId":"bcb31dca-2a92-4a86-b593-6252fc016701","type":"profile","width":"auto","height":"300","interval":6000,"rpp":"4","theme":{"shell":{"background":"d8e9f2","color":"333333"},"tweets":{"background":"ffffff","color":"333333","links":"4fc0f9"}},"features":{"avatars":false,"hashtags":true,"timestamp":true,"scrollbar":true,"live":false,"loop":false,"behavior":"all"},"wUnit":"%","hUnit":"px","oem":"0"}
,facebook,,{"facebookPageUrl":"https://www.facebook.com/ISYM-100426437279816/?ref=aymt_homepage_panel","boxHeight":"500","boxWidth":"100","dispFace":true,"dispUpdate":true,"dispHeader":true,"wUnit":"%","hUnit":"px"}