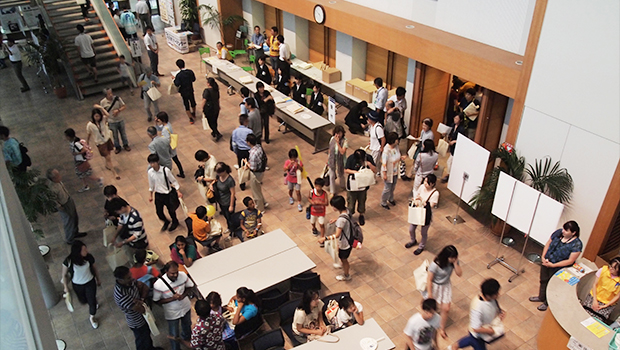 RIKEN Yokohama and the Tsurumi Campus of Yokohama City University held their annual Open Day on Saturday, September 6. A total of 3,044 people visited the campus, enjoying more than 80 kinds of events such as hands-on experiences, tours of facilities, lectures, and short presentations by researchers on their own findings. Below is a review of select Open Day events.
Let's find a variety of blood cells under a microscope!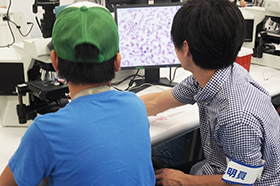 Participants stained blood cells then looked for lymphocytes, granulocytes, macrophages and other immune cells via microscopes, guided by lab staff who use the microscopes in their daily work. The resulting questions and conversations piqued the interest of many people about immune cells.
The secret of various colors in plants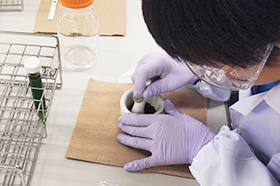 Students in grades 3 to 6 experimented separating out pigments from everyday foods such as green tea and wakame seaweed using thin-layer chromatography and observing the pigment structures. Later, they also took a lab tour to introduce the mass analyzer used in everyday research to detect ultra-trace amounts of plant hormones. The event clocked was a full 90 minutes, but many of the participants remained fascinated from beginning to end.
Make protein crystals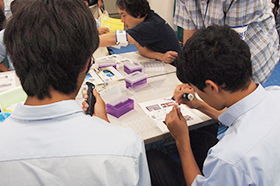 Participants were instructed in the use of experiment equipment such as pipettes as they made protein crystals for the first time. Exclamations of joy could be heard as they peered into their microscopes and confirmed the presence of the crystals. From children to the elderly, a wide range of ages were able to enjoy this experiment and took home a souvenir photo of their own crystals.
What's inside a cell?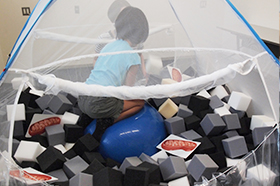 Visitors experienced the cell environment by entering a tent (cell) and searching for the various organelles inside. Physically interacting with the props by lying down in the cell, climbing on the nucleus and generally playing inside helped to envision and understand how a cell works.
Protein structure and function: Let's make slime that glows like fireflies!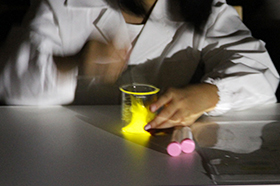 Creating glow slime was the focus of this event. Children mixed two chemicals that recreate the protein that makes fireflies glow, then happily observed their handiwork with the lights turned off. They also took home the slime as a souvenir. This year, poster exhibits on bioluminescence history and research were also added to help parents enjoy and learn.
Thirty-seven volunteers from the nearby Science Frontier High School assisted us throughout the day this year. They took preparatory lectures to be assistants in labs and help at other events, conveying the charms of scientific research to visitors with their enthusiasm.

RIKEN Yokohama incorporated visitor advice and suggestions provided on last year's exit questionnaire by increasing the number of shuttle buses, setting up two rest areas and making changes to the way Open Day was managed. We will continue to consider visitor's opinions so we can continue to provide an enjoyable and educational experience for everyone.

Open Day information for 2015 will be posted on the RIKEN Yokohama website as soon as it becomes available. We look forward to your attendance!