見学ツアー
The RIKEN Yokohama Campus offers tours of its large-scale facilities for educational institutions.
Target groups
Groups from educational institutions (junior high schools, high schools, universities, professional training colleges, etc.)
Tours are not provided to individuals
Number of participants
Minimum of 10 people. Maximum of about 40 people
Timeframe
10 a.m.-4 p.m. weekdays
Tours are not available on weekends or national holidays.
Required time
About 90 minutes (Max. two hours)
Languages
Japanese or English
Cost
Free
Notes
・Indicate any specific tour requests on the application form
・In some cases, it may not be possible to accommodate the requested date or itinerary due to research activities
---
---
Flow from Application to Tour Date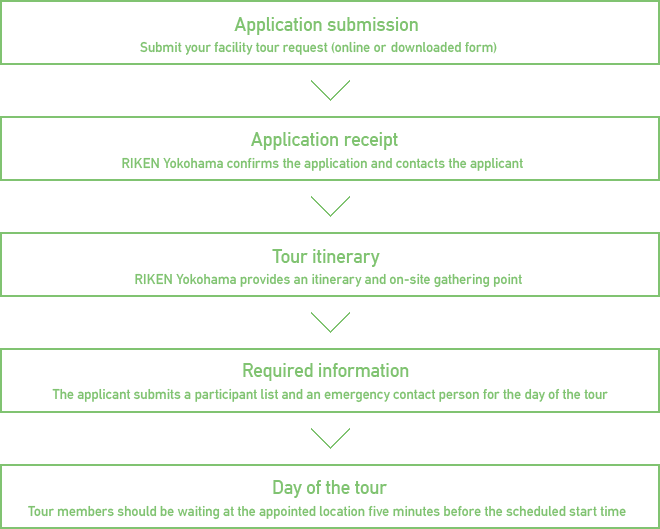 ---
How to Apply
An application should be submitted at least two months in advance of the desired tour date, either online or by downloading an application form for submission by email.
The application for FY2018 will be accepted from June 1st.
Apply online
Fill in the required fields and submit.

---
Inquiries
General Affairs Section Yokohama Administrative Division RIKEN Yokohama
Tel: 045-503-9111 (main number)
Email: inquire_yvisit@riken.jp