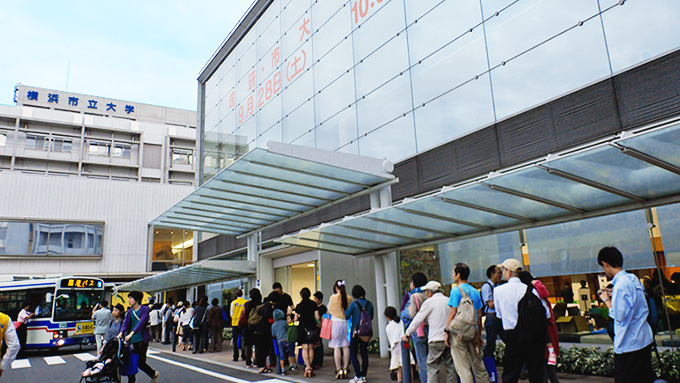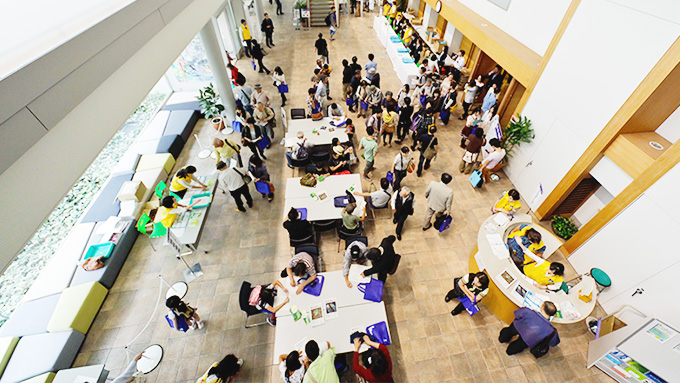 RIKEN Yokohama and Yokohama City University Tsurumi Campus jointly held Open Day 2013 on September 28 (Sat.). We welcomed 3,045 visitors in fine autumn weather, making this once-a-year event a big success. We would like to thank everyone for coming, especially those who helped out on this special day. We hope the day was enjoyable for all families and friends of RIKEN.
There were over 80 events, including hands-on workshops, facility tours, lectures, and poster presentations. Below are listed a selection of reports that provide a glimpse of what the day was like.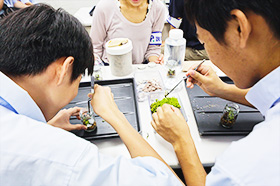 Make a mini moss garden
Each participant made a miniature (bonsai) moss garden inside a small glass jar. After filling the bottle with sands and rocks, moss was planted on the rocks using tweezers, and the garden enjoyed through the glass. Moss research staff supported the participants, using the time to explain the properties of moss and provide expert information on its care. Participants are hopefully observing their bonsai moss garden at home.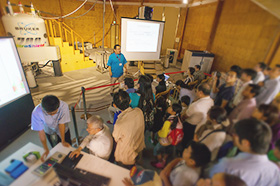 NMR Facility Events
The Center for Life Science Technologies is equipped with one of the world's largest NMR* facilities, in terms of the number of instruments and the size of the generated magnetic fields. The facility is used for analyzing the 3D structure of proteins and other molecular structures. The West NMR Complex was opened to the public, with measurement demonstrations for familiar substances and a commemorative photo setup in front of one of the instruments. In the panel display area, many visitors eagerly asked the researchers questions on how the equipment works.
* Nuclear Magnetic Resonance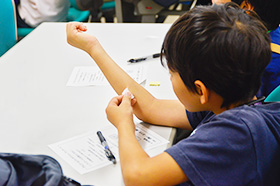 Are you a drinker or not?
Do an alcohol patch test
A single difference in DNA coding creates an individual's alcohol tolerance level to differ from another's. A researcher explained the mechanism of such differences, after which participants took an alcohol patch test. Participants shared their test results with the people sitting next to them, clearly demonstrating the individual differences among us.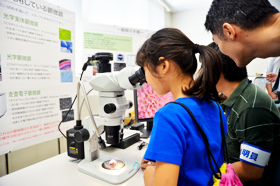 Exploring the small world of plants
by various microscopes
This hands-on event let visitors explore the small world of plants and organisms using various microscopes. The use of actual research microscopes revealed the microcosmos normally unseen to the naked eye. Photos taken by visitors were also on display, making the event space vibrant and colorful. The visitors could also take their microscope pictures home as souvenirs.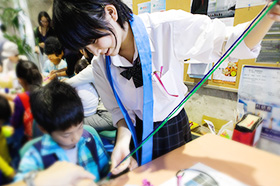 DNA kumihimo (braidweaving)
By braiding several pieces of knitting yarn, visitors created a DNA spiral-like braid. Small children were interested in the curious shape the weaving made, even if they have not yet learned about DNA. Many families were keen on making the braids together.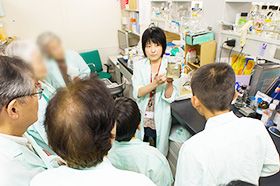 Visualization of gut commensal microbiota
The event participants in all ages spent full two hours, staining and observing the intestinal bacteria of mice. Following a researcher's explanation, the participants made a gram stain of the bacteria. Then they moved to a real IMS* lab (where they normally conduct experiments) and observed the results of their staining with microscopes.
* Center for Integrative Medical Sciences

There were 50 student volunteers from Yokohama Science Frontier High School this year. The students not only supported various labs with their events, but they also guided and provided explanations to the visitors. Together with RIKEN researchers, they helped convey the joy of science to the public.
Lastly, we regret that there was a shortage of the RIKEN Yokohama Open Day brochure, which included a venue map and event descriptions. It was due to the fact that we had an extra of 1300 visitors this year (a 170% increase over last year). Those visitors who arrived after 2 p.m. were the most inconvenienced.
There was also a significant issue with the distribution of numbered event tickets. Some people were unable to obtain tickets for the events they wished to participate in since the ticket distribution point/counter was overly crowded with people for the limited number of tickets.
The date for next year's Open Day will be announced as soon as it is decided. We will do our best in preparation for the next year's Open Day events based on what we learned this year.
We look forward to welcoming your visit to RIKEN Yokohama in 2014!